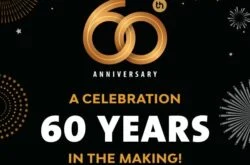 60th Anniversary Celebration Fireworks
Join us as we celebrate Rideau Carleton Raceway's six momentous decades of bringing harness racing and entertainment to the community, with a special 60th Anniversary race night and fireworks display! Post time for racing is 6:30pm, and fireworks will begin between at 10pm. Families can enter via outdoor Family Entrance at the south side of the building. Free Parking.
Rideau Carleton Racetrack & Casino, 4837 Albion Road, Ottawa
September 4, 2022
Price: Free
Bushels of Fun Down on the Farm
The corn maze will be open for those who want to try their skills at finding their way through the maze. Wagon rides will be returning to our Fall program. There is a designated area where the wagon leaves from and it runs throughout your sessions, so if it is busy just come back to it later. At the farm, we have lots of friendly animals to see, feed and touch and the kid's barn has some imaginary play areas and the famous corn sensory table. Make sure to take a walk in the woods down scarecrow lane, don't worry everyone is friendly. There are three different hay play structures to climb and explore. Bring some snacks and enjoy the picnic and play area.
The Log farm is part of Ottawa's history, the farm was originally settled in 1854 and the home and farm buildings were built over the next few years. . You can walk through the original home of the Bradley's and take in how they lived right here over 150 years ago!!
The Log Farm, 670 Cedarview Road, Ottawa
September 3, 2022 To October 23, 2022
Price: $11.99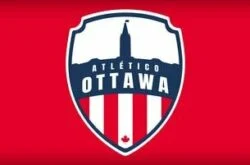 Atlético Ottawa vs. FC Edmonton
Canadian Premier League, Atlético Ottawa Home Game
TD Place Stadium, 1015 Bank Street, Ottawa
September 2, 2022
Price: $11.85 - $65+fees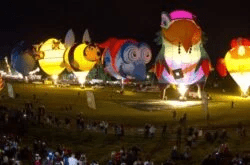 Gatineau Hot Air Balloon Festival
Traditionally held during the Labor Day weekend, the FMG – Gatineau Hot Air Balloon Festival, is the largest summer event in the Outaouais. Recognized for its diverse artistic programming and entertainment for the whole family, the FMG offers surprising activities in a magical atmosphere!
There is nothing more beautiful than the Lift-offs! This year once again, there will be dozens of hot air balloons. As always, the public will get to enjoy the ultimate experience:seeing the region from up high. And this year, there will be the low-cost tethered flights, more limited and less dizzying.
Parc La Baie, 988 Rue Saint-Louis, Gatineau
September 1, 2022 To September 5, 2022
Price: $12.99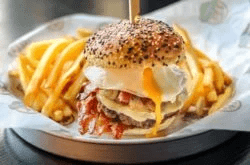 Le Burgers Week Ottawa
Le Burgers Burger Week is a weeklong burger festival that takes place, each year, from September 1st until September 7th where participating restaurants from various Canadian cities compete to create a unique burger; reflective of their overall concept and cuisine. Throughout the week, burger aficionados everywhere are called upon to indulge in their city's LBW burgers and vote online for their favourite one!
Various Restaurants, Ottawa
September 1, 2022 To September 14, 2022
Price: Varies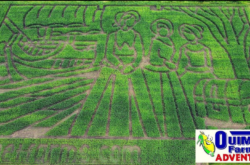 Ouimet Farms Adventure
Located in the heart of Vankleek Hill, Ouimet Farms Adventure is a unique place where fun, family, and farming come together.
You will find a treasure hunt in a giant Corn Maze Jumping pillow, pedal karts, games, a soft serve ice cream booth and more.
Ouimet Farms Adventure, 63 Main St W, Vankleek Hill
July 23, 2022 To October 30, 2022
Price: $17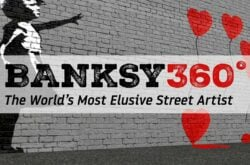 Banksy 360º, The World's Most Elusive Street Artist
Banksy 360º, The World's Most Elusive Street Artist is an unauthorized immersive exhibit in collaboration with Bristol, England – based author Marc Leverton. Marc wrote the book Banksy: Myths and Legends and is a Senior Lecturer at Bath Spa University.
Banksy 360º will debut a brand new imaginative and immersive art experience in Ontario. Using cutting-edge projection technology crafted by renowned audiovisual designers, Banksy 360º creates an engaging journey into the work of one of the world's most legendary, and most notorious street artist: Banksy.
See over 50 of Banksy's works of art come alive across multi-media surfaces, and every detail is maximized allowing participants to be completely surrounded by moving images of the artist's work. Experience the themes of Banksy's societal influences.
Aberdeen Pavilion, 1000 Exhibition Way, Ottawa
July 20, 2022 To September 7, 2022
Price: $23 to $46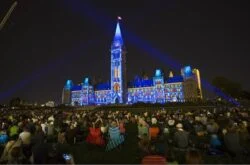 Sound and Light Show on Parliament Hill
Join us for the presentation of the sound and light show this season! Northern Lights is a free and bilingual show. Combining bold digital technology with the architectural splendour of the Parliament Buildings, Northern Lights illuminates Canadian stories of nation-building, partnership, discovery, valour, pride and vision at the heart of our country.
Key figures, events and achievements from Canadian history are brought to life using five distinct artistic styles. All are presented in spectacular detail, with stirring narration and an original score, against the backdrop of the Centre Block and Peace Tower.
The show is updated every year to showcase milestones in Canadian history. In 2022, a new segment celebrates the Platinum Jubilee of Her Majesty Queen Elizabeth II. Discover captivating images commemorating this historic milestone during the Northern Lights.
Get a front-row seat to a free and unique multimedia experience and discover Canada's great achievements and our history's key milestones.
Canadian Heritage is pleased to provide deaf or hard-of-hearing visitors with live, on-site simultaneous interpretation in ASL and LSQ on certain nights during the 2022 season. On these nights, ASL and LSQ interpreters will be on-site one hour prior to show time to assist visitors. Visitors who would like to take advantage of this service are encouraged to arrive at least 30 minutes before show time and should look for the feather banner indicating the location of the interpreters on the lawn.
Spectators are invited to bring chairs and blankets to enjoy the view from the lawn.
Parliament Hill, 111 Wellington St., Ottawa
July 6, 2022 To September 5, 2022
Price: Free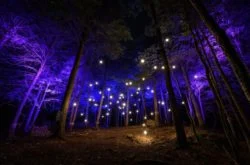 Omega by Night
Discover the beauty of nature by night with our sound and light experience, on a 1.5km walking trail. The activity takes place in the Land of the Pioneers, at night fall.
Discover our illuminated walking trail again this year!
After crossing the cedar forest to the swamp, you will hear the croaking of frogs and the chirping of crickets. A little further on, you can admire a huge sculpture of the king of the forest, the moose. You'll get chills!
Then, you will have the chance to see on a giant screen two elk males confronting each other and to hear perfectly the cracking of their antlers as they collide. The walk will continue to the wolf observatory where you will be able to admire a pack of wolves under a full moon.
Everything will be set up for you to live an unforgettable and unique experience in the heart of nature, in the darkness of the night.
Parc Omega, Québec 323, Montebello
July 2, 2022 To October 8, 2022
Price: $19 to $29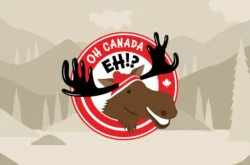 Oh Canada Eh? Dinner Show
Join us for our second season here in the Nation's Capital! This two-hour show features all-Canadian music: from maritime folk songs to modern pop. Come meet our singing Mountie, Hockey Player, Anne of Green Gables, Klondike Kitty and more.
This high-energy production features over 70 songs from all-Canadian artists including music from Paul Anka, Celine Dion, Shania Twain, the Bare Naked Ladies, Avril Lavigne, Justin Bieber and many, MANY more. While you're enjoying the show, our performers serve our famous, all-Canadian meal. At what other restaurant are you served your dinner by a singing Mountie?
Oh Canada Eh? Dinner Theatre, 330 Kent Street, Ottawa
March 4, 2022 To December 23, 2022
Price: $20 to $89.95
Source: To Do Canada