Think of the entryway, or foyer, as a preview of the rest of your home. It gives people an idea of who you are, where you like to travel, what kind of art you like, and your favorite colors. As it's the first space people see when they enter our home, the entryway design probably deserves more attention than you may think. Here are some great design ideas to make your entryway a bit more inviting.
If you'd like to make your entryway feel more cohesive, try to think of the foyer as a glimpse into your personality. Start with a color, pattern, or style you love, then add in some art, accents, and furnishings that bring that idea to life.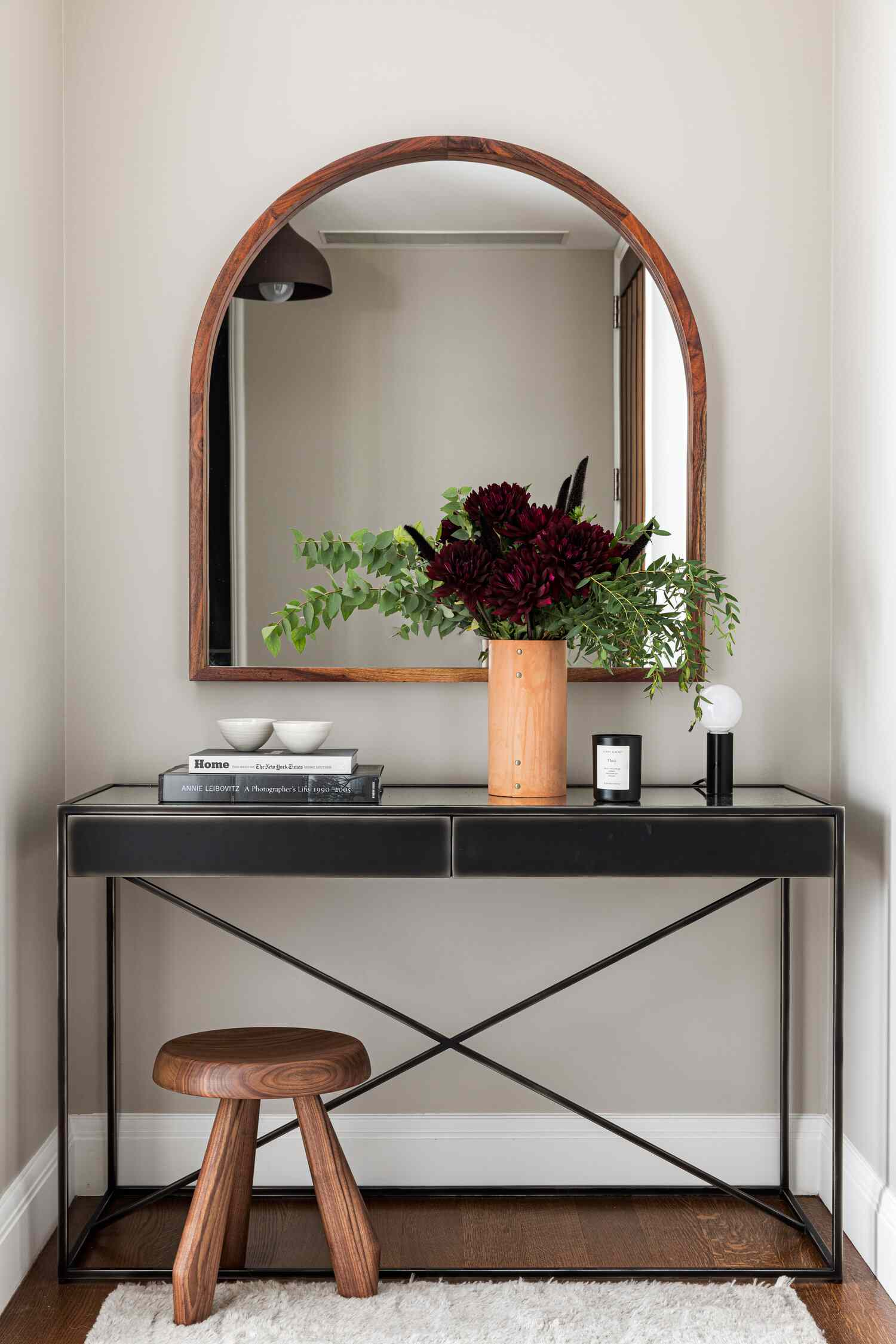 Creating a beautiful and functional entryway that also reflects your style and personality isn't hard to do. It just involves paying attention to a few basics, then adding your own unique touch.
If you're looking for ideas for decorating your entryway, scroll through the entryway inspo photos below, taking note of what you love about each space.
Is it the console table or cabinet? The lighting? The rug or artwork? The color scheme? The entryway decor ideas? The creative storage solutions? Or maybe a little bit of everything?
Take a look at these 8 simple steps to how to bring your entryway to life.
1. Keep it light
First of all, since the front entrance sets the tone for the rest of your home, try to keep it bright, well-lit and clutter-free so visitors aren't tripping over things as they come in!
2. Add a place to hang coats, hats & scarves
One thing to remember to do before we have people over is make sure there's room in the coat closet for their coats. We also have a coat rack attached to the wall in our entryway, and I try to keep a few hooks open for guests to hang purses and scarves.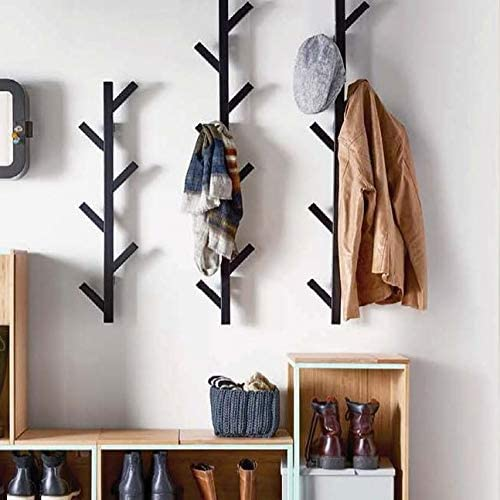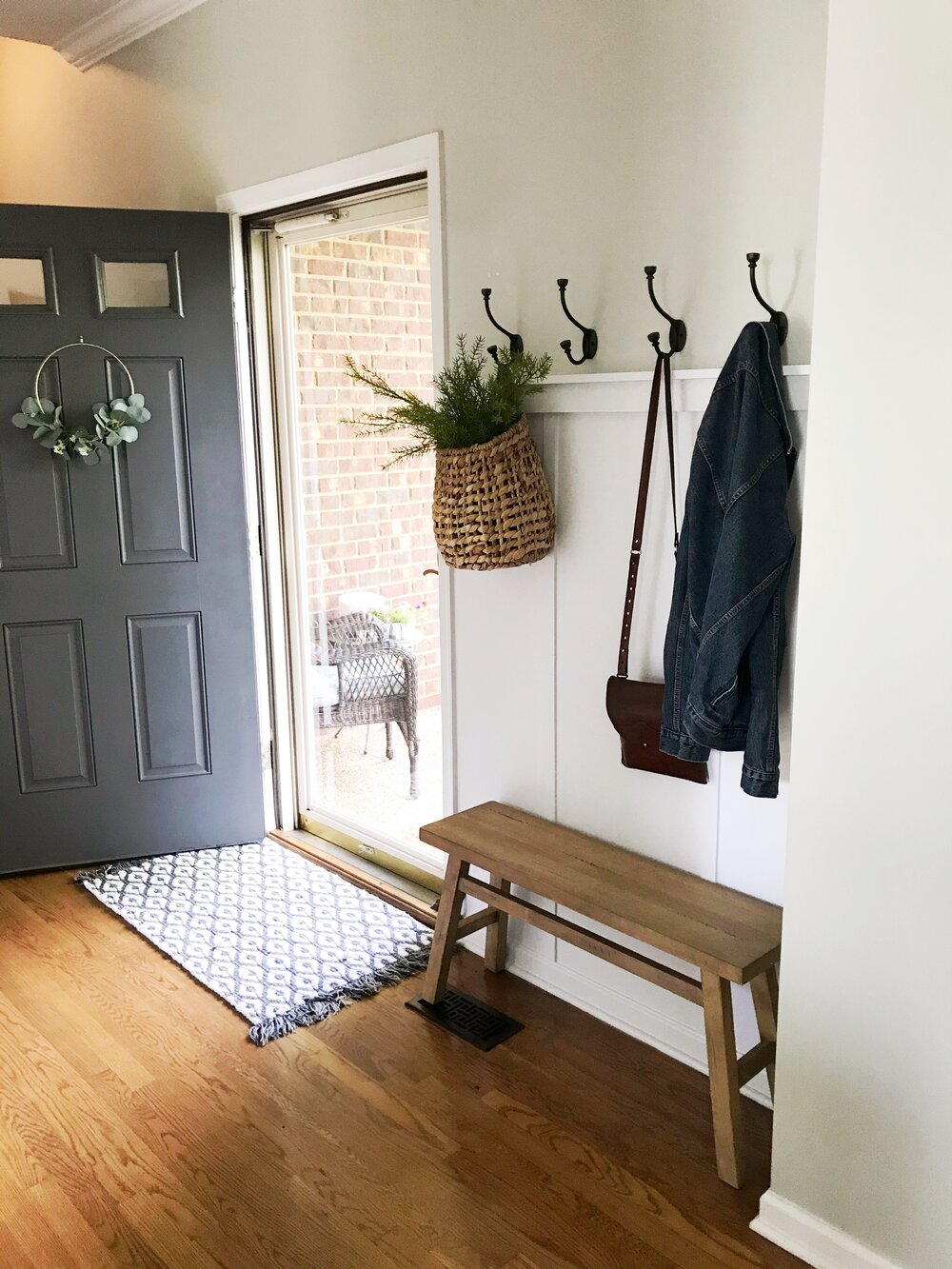 3. Make your foyer functional
Foyers often get completely lost in piles of coats, shoes, and backpacks. To help keep clutter to a minimum, try to think of everything you want to keep in the entryway and then decide what kind of storage options you'll need.
The spaces below show more ideas for incorporating storage in a small entryway.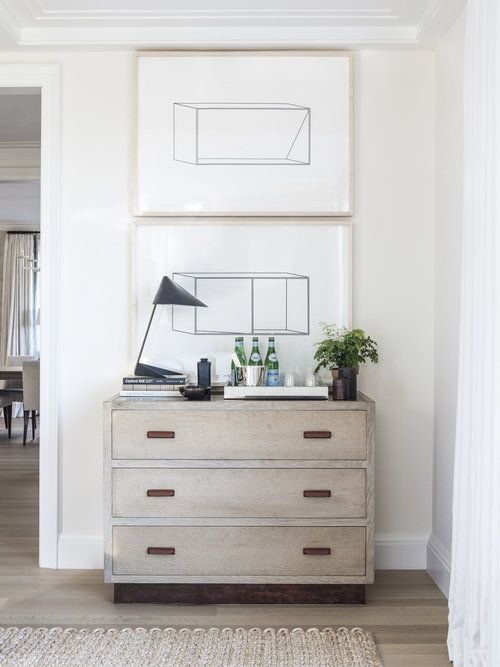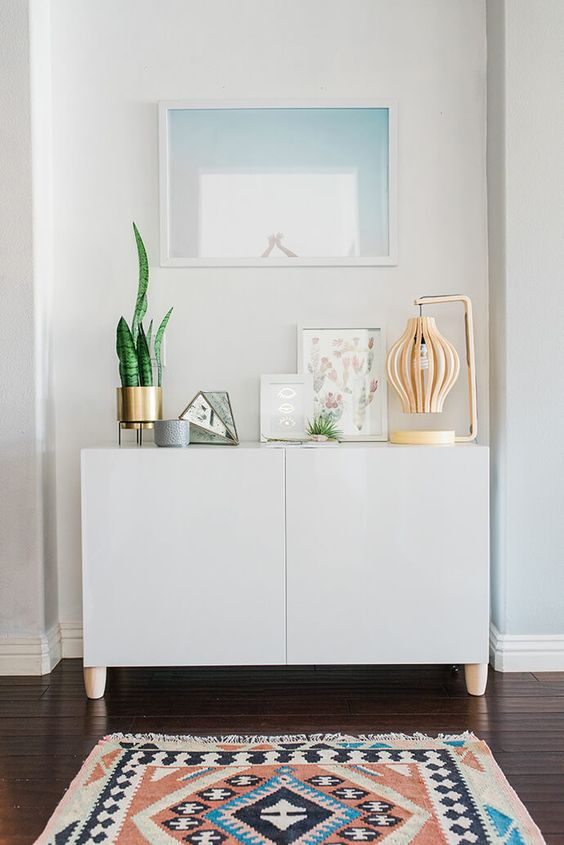 Adding a couple of tall baskets to the entryway is a wonderful way to provide hidden storage for shoes, etc.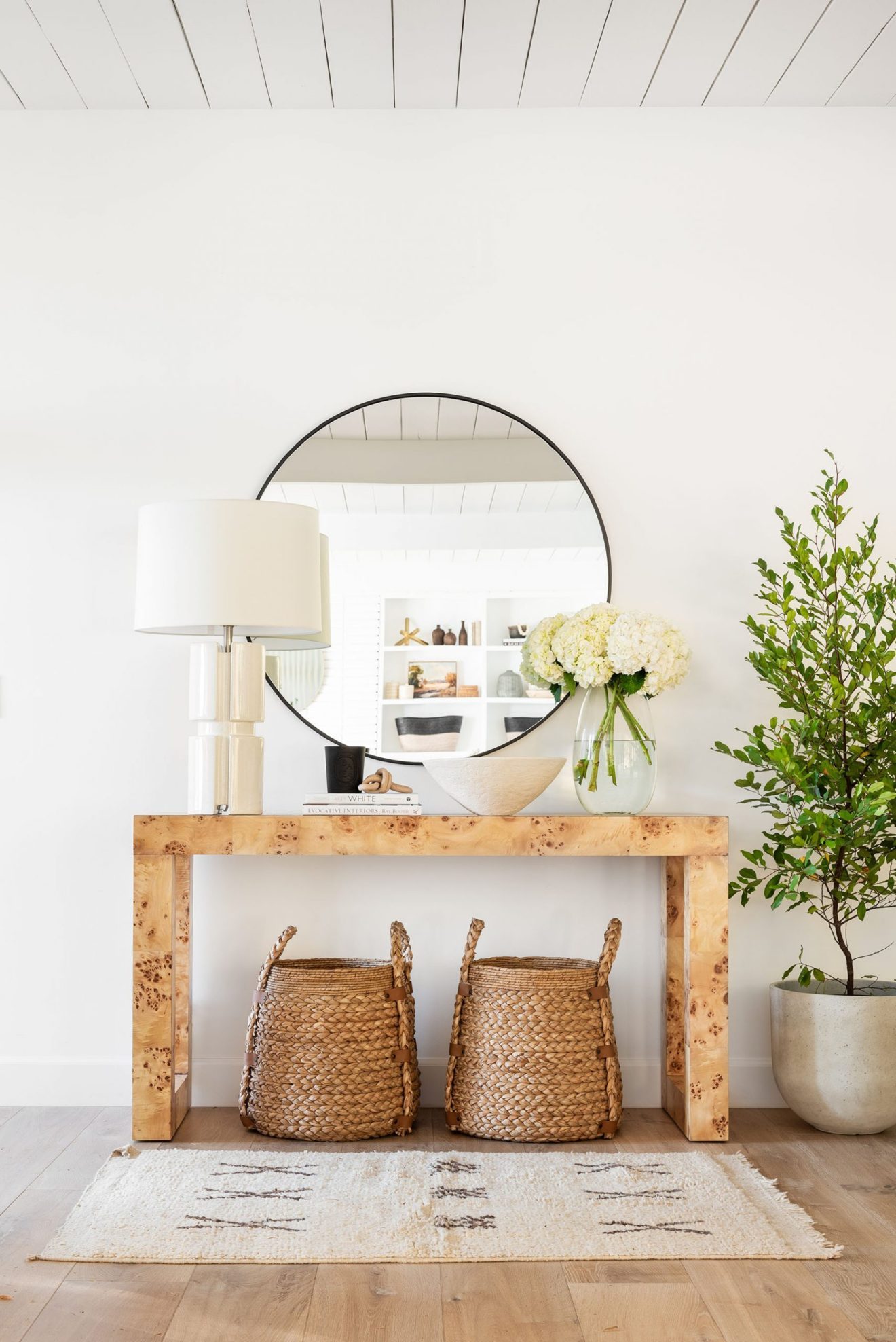 4. Welcome warmth with a rug
If you have tile or wood flooring in your front entryway, a rug can soften the space, add color and texture, and pick up the dirt that's tracked in.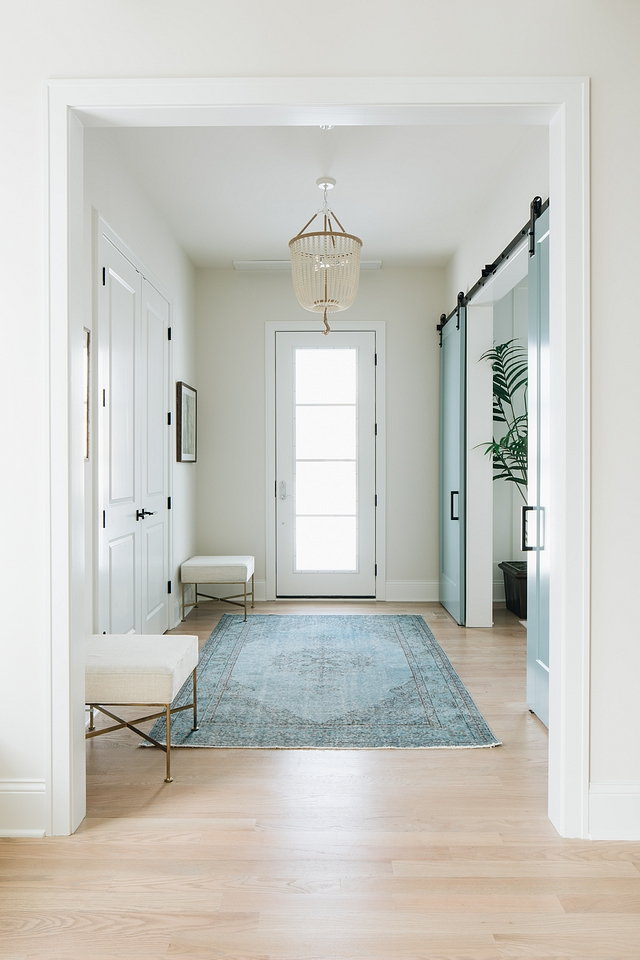 The floor in our entryway tends to get very dirty, especially when it rains or snows, so I like to use rugs that can be thrown in the washing machine when they start looking a little dingy.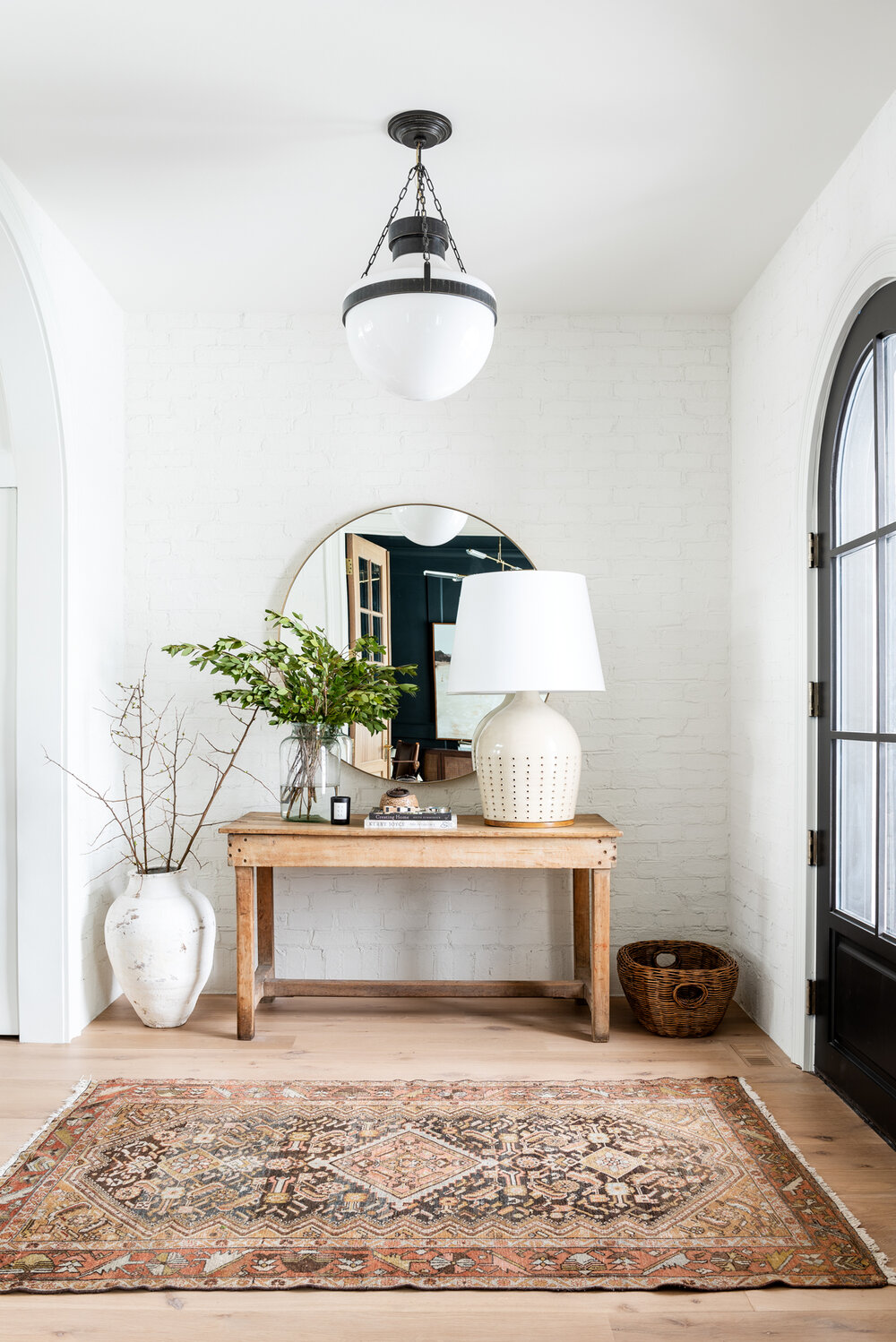 Just make sure your rug lays nice and flat so it's not a tripping hazard.
5. Don't forget a mirror
Mirrors are a wonderful addition to the foyer. Not only do they brighten and lighten an often-dark space, they make it easy to take a quick look at your makeup and hair before you head out the door!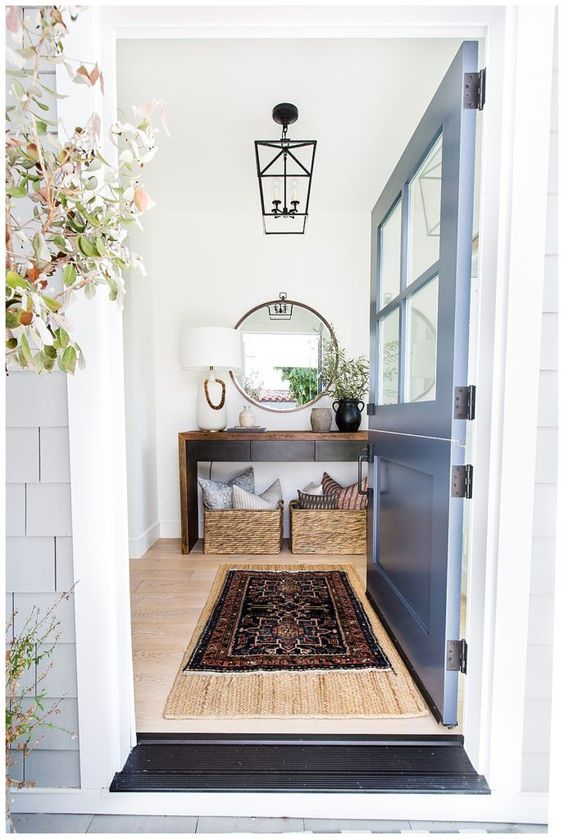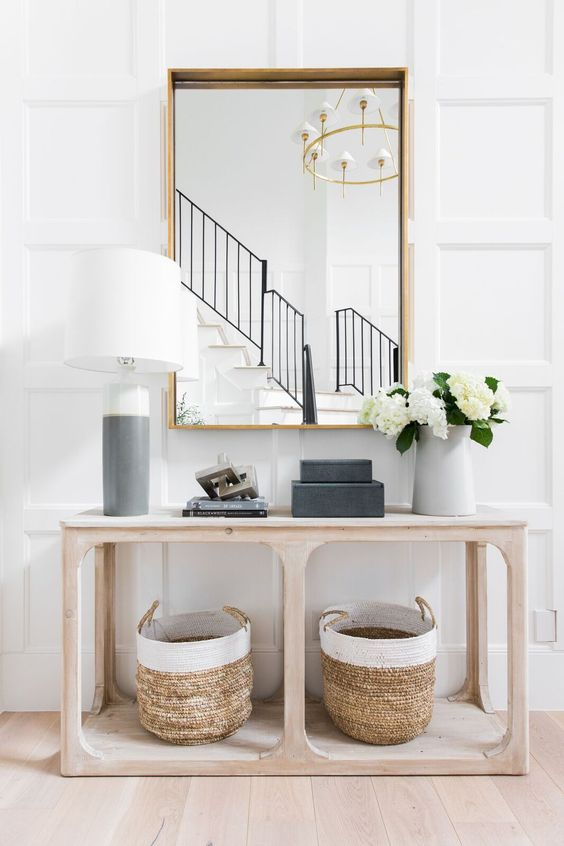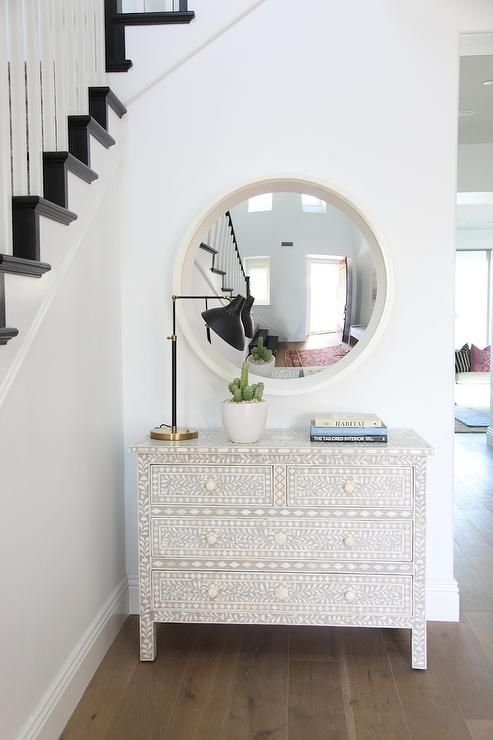 6. Provide a spot to sit
Another thing to include in the foyer is some type of seating so guests can sit while they remove their shoes or boots. Folding stools or upholstered cubes provide the perfect seating solution in a small entryway or modern foyer design.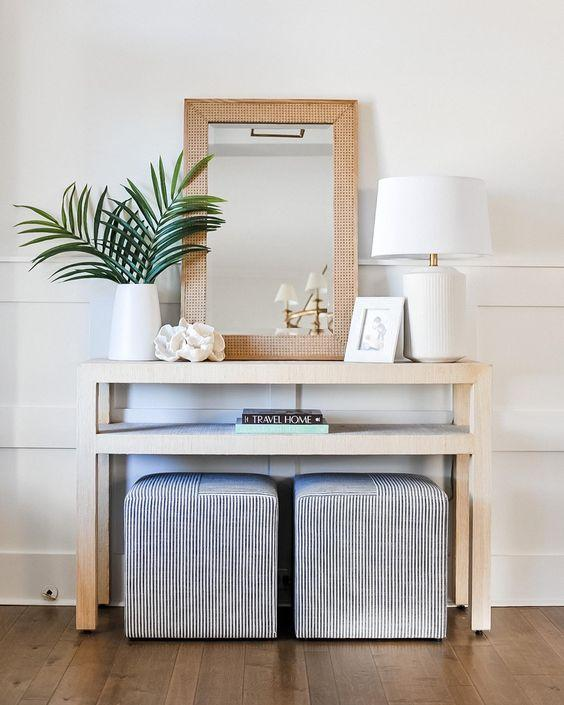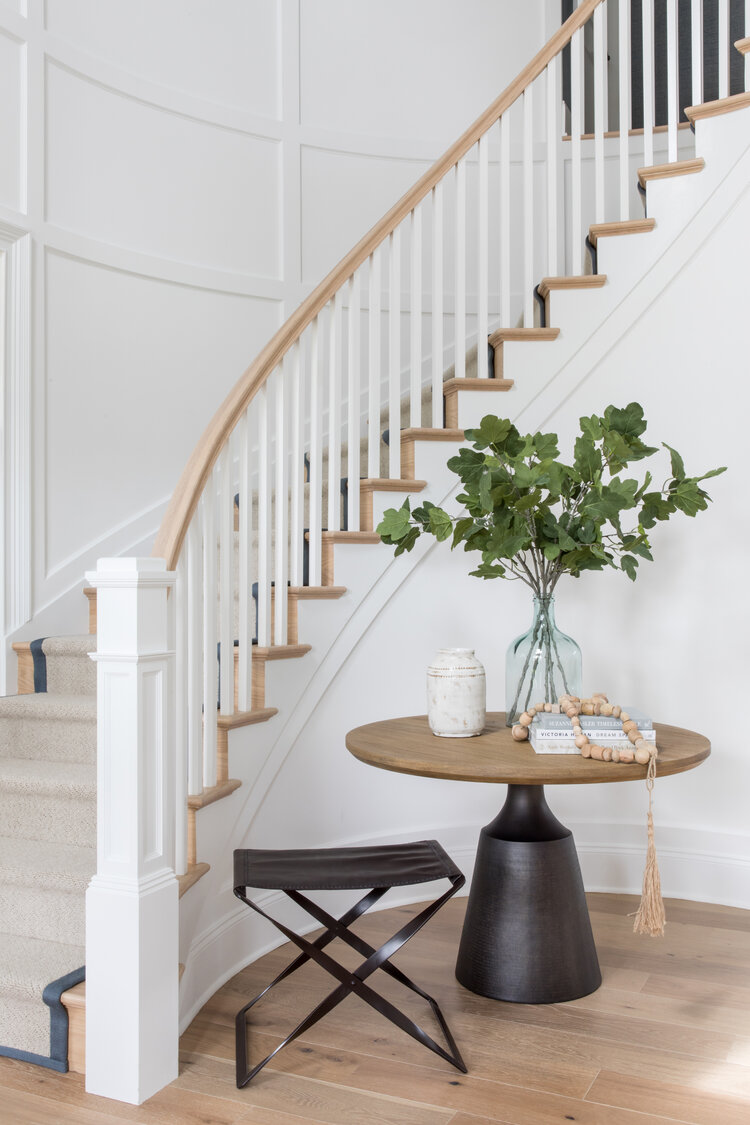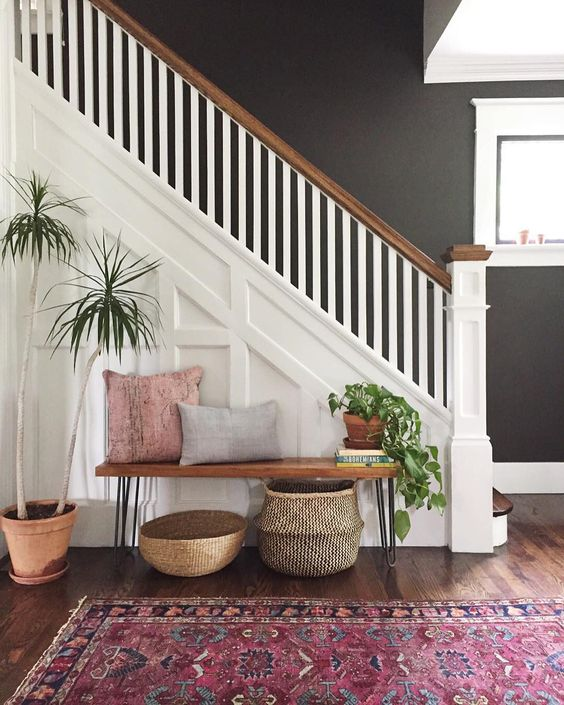 As a bonus, by making it easy for your guests to take off their shoes when they arrive, your floors will stay cleaner!
7. Add some personality
When thinking of foyer decor, add in the colors, patterns, or styles you love and that reflect your personality. Find modern entryway art, accents, and furniture that speak to you and express the look and feeling you want your home to convey.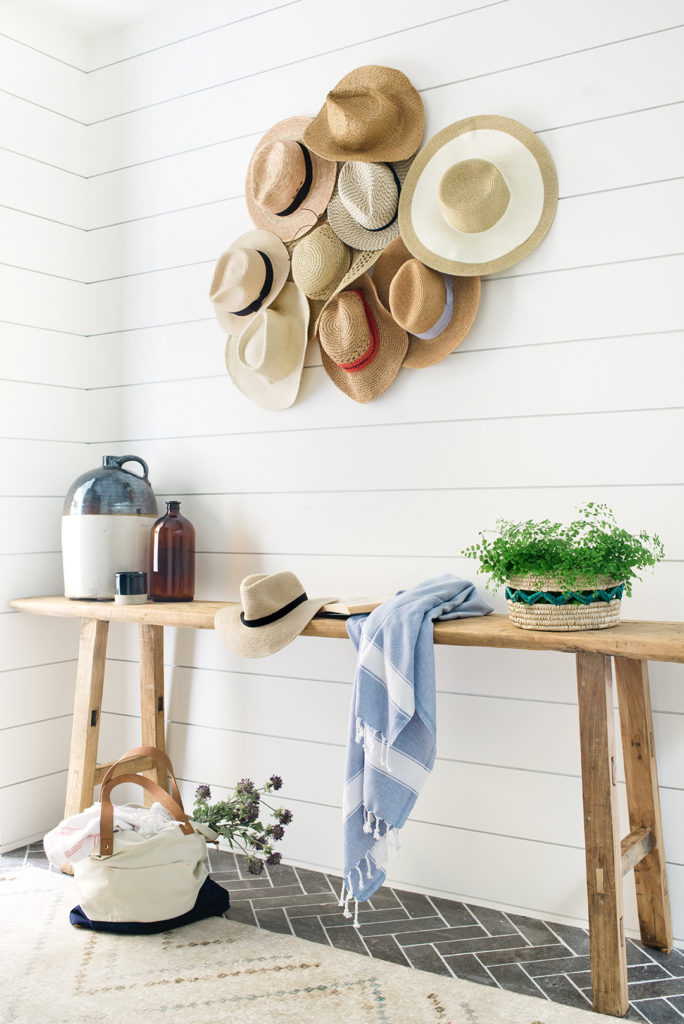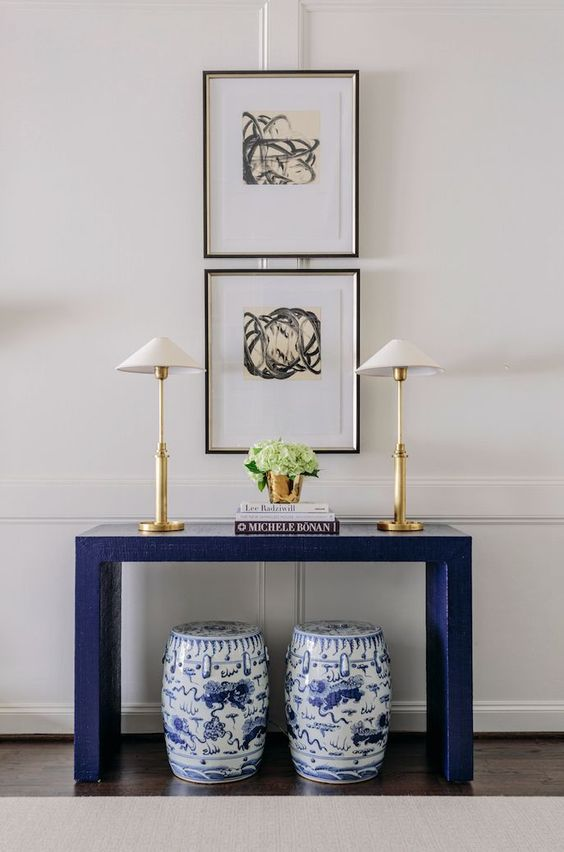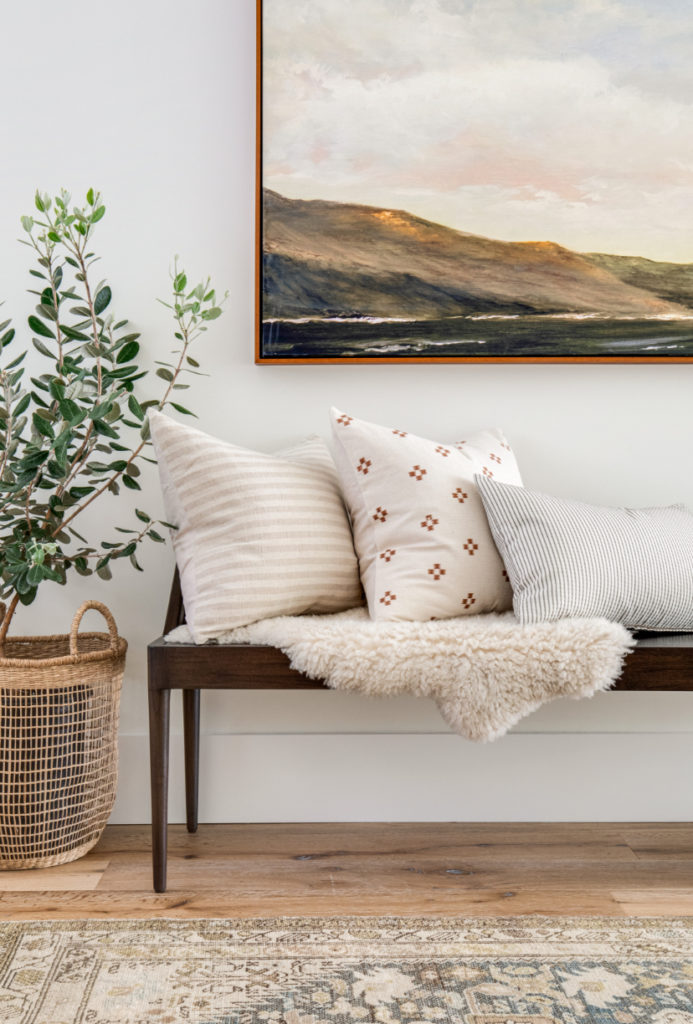 8. Include a spot to stash things:
If you have the space, a sideboard or console table offers a spot to set mail and keys. A decorative dresser can also be a beautiful addition to your foyer decor — and it has the bonus benefit of extra storage space!

A couple of decorative baskets placed under a console table help hide blank wall space and provide a place to stash small items like dog leashes.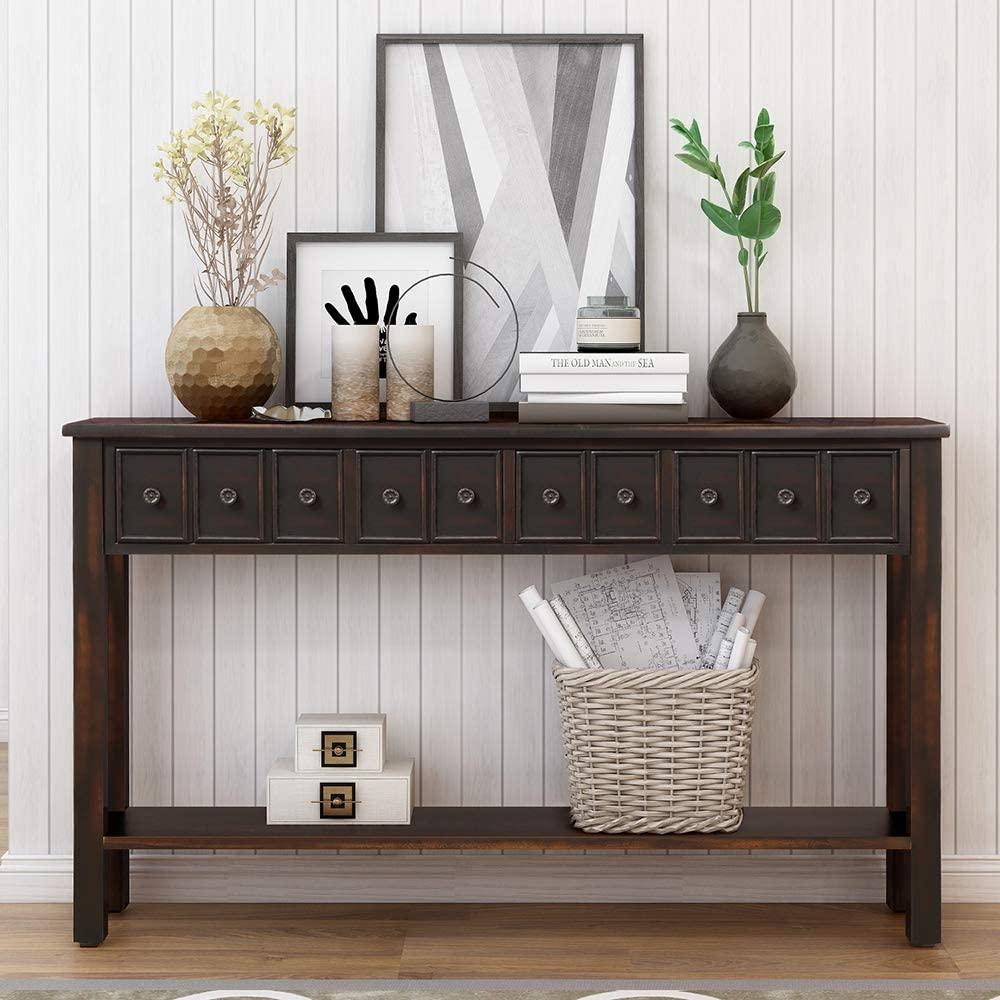 Dual purpose foyer decor: a pretty bowl or beautiful boxes are perfect for holding keys and wallets and other small items you need to keep track of.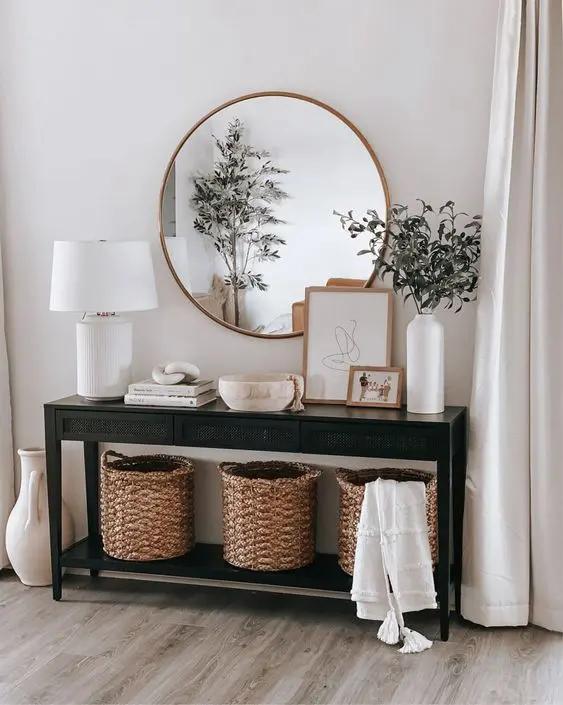 Whether you have a small entryway or something more grand, the most important thing is to create a welcoming and positive feeling when you and your guests enter your home!
Source: https://jane-athome.com/stylish-entryway-ideas/